URISTAT® Pain Relief Tablets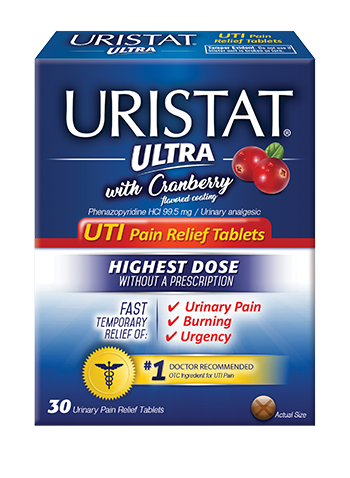 Don't wait for relief
We've got exciting news: relief does not have to wait for the antibiotic to clear the infection. Take URISTAT® Pain Relief Tablets and feel relief now, while you wait for the antibiotic to work.
The URISTAT® Pain Relief Tablets includes 30 Tablets.
Nonprescription temporary pain relief - from the makers of MONISTAT® products. URISTAT® contains phenazopyridine HCI, the #1 doctor recommended medication used to treat pain or discomfort experienced while urinating.
PRODUCT BENEFITS
Fast temporary relief of pain, burning, urgency and frequency of urination
Easy-to-swallow tablet form
Brought to you by the makers of MONISTAT® - the #1 recommendation of doctors and the #1 choice of women for OTC vaginal yeast infection treatments
Step 1: Test for infection with the URISTAT® UTI Test Strip.
Step 2: Temporarily relieve your pain with URISTAT® pain relief tablets. TO MAXIMIZE THE ACCURACY OF THE UTI TEST STRIP, PAIN RELIEF TABLETS SHOULD NOT BE TAKEN BEFORE TESTING.
PAIN RELIEF TABLET INSTRUCTIONS
Adults and children 12 years of age and over: take 2 tablets, 3 times daily with a full glass of water, with or after meals as needed
Children under 12 years of age: consult a doctor
Do not use for more than 2 days (12 tablets) without consulting a doctor
Do not exceed recommended dosage
PRODUCT WARNINGS
Do not take if you have previously exhibited hypersensitivity to phenazopyridine HCl or if you have kidney trouble. Remember that advanced age is associated with declining kidney function. Discontinue therapy if you experience a yellowish tinge of the skin or eyes. This may indicate accumulation due to impaired kidney or liver function.
As with any drug, if you are pregnant or nursing a baby, seek the advice of a health professional before using the product.
If your symptoms persist, are severe, or you experience fever, chills, back pain or bloody urine see your doctor promptly. You may have a serious condition that requires different treatment.
Phenazopyridine HCl may cause gastrointestinal upset in some people. Take with or after meals to reduce gastric upset and discontinue use if symptoms occur.
This product may stain soft contact lenses.
Keep this and all drugs out of reach of children and do not administer to children under the age of 12 unless directed by a physician.
In case of accidental overdose, seek professional assistance or contact a poison control center immediately. 1-800-222-1222
Carcinogenesis: Long-term administration of phenazopyridine HCl has induced neoplasia in rats (large intestine) and mice (liver). Although no association between phenazopyridine HCl and human neoplasia has been reported, adequate epidemiological studies along these lines have not been conducted.